Designing a sales funnel that converts can be daunting, especially if you are a beginner. Fortunately, studying funnel designs from other businesses can help you find inspiration. So what are some of the best funnel design examples?
Some of the best funnel design examples include Netflix, Spotify, and Groupon. Each of these funnels has a proven track record, and each of them has reached and served millions of users. The landing pages, funnel layouts, offers, and updates have been designed to provide an amazing user experience.
Below, we will discuss each sales funnel design in detail. Keep reading to learn why these funnels are so effective and how you can apply their strategies in your own funnel.
Top 3 Funnel Design Examples that Convert Well
1. The Netflix Sales Funnel
Netflix is a widely used video streaming service that allows video enthusiasts to watch various kinds of media for a monthly fee.
With over 200 million users, it is evident that Netflix uses a highly converting sales funnel. Here are the key elements of its design:
a. Landing Page Design
Netflix features a simple landing page design that is easy to navigate. The moment users land on the page, they can either sign in or sign up to get started.
The page is also aesthetically appealing, with the background featuring the latest shows and movies.
The landing page copy is simple and straight to the point.
A visitor is immediately made aware that Netflix offers unlimited shows, movies, and more through attention-grabbing headlines.
The body of the copy is brief and to the point, thus clearly communicating the message.
The Netflix funnel uses a simple and bold call to action that encourages new users to get started with the program.
Moreover, the call to action button is red, creating a sharp contrast against the dark background.
The eye-popping call to action grabs the attention of visitors, which increases its chances of being clicked on.
b. Funnel Layout
The Netflix sales funnel features properly arranged pages that work together harmoniously.
This ensures that leads transition smoothly through the funnel steps.
For example, once people click on the 'Get Started' button, they quickly receive an email that helps them get started with their membership.
c. Funnel Offer Design
The Netflix sales funnel offers are properly designed and placed strategically throughout the funnel.
Netflix offers a 30-day free offer with zero risk on its landing page. After introducing the free offer, Netflix does not talk about its paid plans.
This is done to prevent leads from leaving before they try the service.
Instead, the funnel directs leads to a plan introduction page where leads learn that they will not be charged until their free trial ends.
It also lets them know they can cancel anytime.
As a result, they are able to get people to trust them. Once trust has been established, leads move on to the next funnel stage.
d. Updates And Maintenance
Regular updates and maintenance are crucial aspects of any funnel design.
Updates allow funnel users to get fresh content; therefore, a funnel must be updated regularly.
Netflix knows this well, so they strive to regularly update their list of shows.
Members may receive emails, phone notifications, or other alerts when new content arrives.
The Netflix landing page background also changes often so they can display their new shows and videos.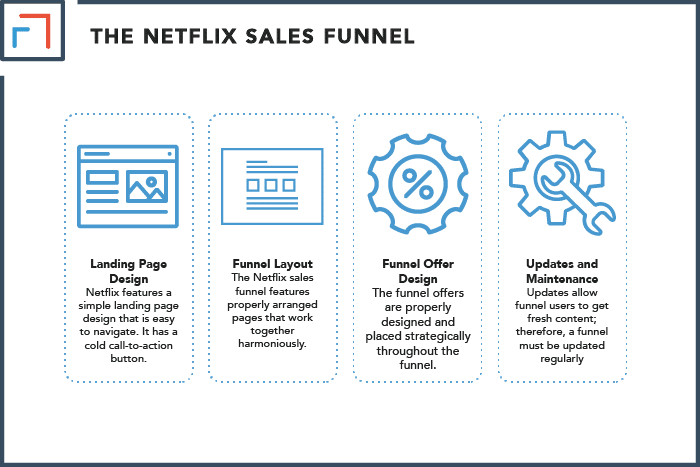 2. The Spotify Sales Funnel
Spotify is a popular music streaming video with over 180 million users in 2022. It allows users to stream millions of songs and podcasts for free.
However, users can also subscribe to the premium version that removes ads and provides access to higher-quality music.
A lot of the success of the Spotify sales funnel can be attributed to its good design. Here are some essential details of its design:
a. Landing Page Design
Spotify has designed a simple but effective landing page that grabs the attention of its funnel visitors.
The landing page features a minimalist style that is clean and aesthetically appealing.
As a result, the landing page elements are presented clearly without distractions.
The page has a killer headline that invites leads to try the one-month premium plan for free.
Additionally, the landing page copy is presented in a legible typeface and a suitable font size.
The empty space is also well utilized to give every element the room it needs. When it comes to the calls to action, they are bold and clear.
At the bottom of the page, users can either get started or view plans first.
The Get Started call to action button is presented in a visible black color that contrasts against the blue background.
As a result, the message stands out from the rest of the text.
On another note, the landing page is highly responsive and thus provides a good user experience on desktop and mobile.
This is a necessary feature because Spotify's main elements need to be accessible from both PC and mobile applications.
b. Funnel Layout
The Spotify sales funnel consists of a series of pages designed to move a prospect from one stage to another without friction.
For instance, visitors are welcomed into the funnel through an offer to stream music for free.
Next, leads are redirected to another landing page with a premium offer and access to better quality music and other paid features.
Finally, prospects are directed to pricing and payment pages. It's a simple and effective setup that doesn't waste time or space.
c. Funnel Offer Design
Spotify presents a strong offer to its new customers. Every new lead is given a chance to get a taste of the premium plan for free.
Better yet, the offer is strategically positioned, so visitors see it first. In turn, prospects are more likely to subscribe to the premium plan after trying the free version.
d. Updates And Maintenance
Spotify's funnel regularly updates its content to ensure users get access to the latest songs and podcasts.
Due to the constant need to update content, improve software, and fix bugs, Spotify is designed to auto-update its library.
As a result, leads find it easy to trust the platform.
3. Groupon
With about 24 million users, Groupon is a popular site that allows users to access daily deals in their area.
Groupon's high level of conversion can be attributed to its sales funnel that converts leads into paying customers.
a. Landing Page Design
One of the most notable aspects of Groupon's landing page design is the pop-up call to action.
This pop-up invites visitors to provide their contact information/email in exchange for a 20% off deal.
The content is organized into categories, making it easy for users to navigate the site and find what they need.
Additionally, users can use the search function to find deals quickly.
b. Funnel Layout
The Groupon sales funnel layout is simple. All visitors need to do is sign up via email, find deals they like, then proceed to payments.
It's flexible, so the user can select the deals that they find the most appealing.
c. Funnel Offer Design
The offers are attractive and strategically positioned to persuade new visitors to join the funnel.
For instance, on the landing page, visitors are invited to enjoy a reduced price once they sign up.
d. Updates And Maintenance
Groupon stays ahead of the game by constantly upgrading its deals list to remove expired deals and add new ones.
Wrapping Up
A properly designed sales funnel is essential for attracting, nurturing, and converting leads.
Although creating a converting sales funnel is challenging, it is worth the trouble.
The above top three funnels will help you model your own funnel to make it effective.
Better yet, Netflix, Spotify, and Groupon have a tremendous proven track record making them a perfect source of inspiration.
Therefore, it is worth studying their design and implementing some of their ideas in your next funnel.