The type of font you choose can make or break your sales funnel. This is because your sales funnels need to be aesthetically appealing and engaging. To help you design attractive funnels, ClickFunnels integrates with numerous Google fonts. But which ones are the best?
The best ClickFunnels fonts include Open Sans, Roboto, Source Sans Pro, Montserrat, and QuickSansd. These fonts are appealing and highly readable. Font readability helps you communicate your sales message in a clear and accessible way. Subsequently, you get a higher chance to convert your leads.
Choosing fonts can be overwhelming because there are so many options. This post explores the best ClickFunnels fonts. Any of the options below will help you create attractive and engaging funnels. Let's dive in!
What to Look For in a ClickFunnels Font?
The wrong choice of a font type could break an otherwise great funnel. After all, if people can't read your message, they won't buy from you!
Moreover, the existence of over 900 fonts doesn't make it easy to choose a font.
To help you pick the right option, here are some factors to consider before selecting a ClickFunnels font.
1. Fits Your Brand
A good font should match your brand image and message. It should also fit with your current landing page design and that of other funnel pages.
This will help you to maintain brand consistency and build credibility.
2. Readability
Readability is another critical aspect of a font. Even if the font you choose matches your brand image, it won't be helpful if it's unreadable.
If the readers struggle to see/understand your message, they will drop out of your funnel.
If you feel that you are losing a lot of potential sales due to people dropping out of your funnel, I have an awesome article for you on fixing your funnel drop-off.
3. Font Class
Since there are hundreds of fonts to choose from, they have been grouped into classes to make identification easier.
The main classes of fonts include Serif, Sans Serif, Decorative, Monospace, and Script. Hence, there is a class to fit every situation.
For instance, Serif fonts portray neatness and tastefulness and thus are more readable.
On the other hand, monospace fonts are uniformly spaced, hence portraying a nostalgic feel of the typewriting days.
As a result, they sometimes make a good fit for sales pages that deal with tech products.
4. Mood
Like other art forms, fonts can elicit certain emotions in your audience, depending on their design.
Therefore, you should check the kind of mood a specific font can set before using it in your funnel.
A good way to tell is by reading the font descriptions that specify where and how a font type can be used.
5. Placement
Fonts can either be display or body fonts. Display fonts are usually large, thus making them suitable for headers.
On the other hand, body fonts are smaller in size and need to be easy to read.
Therefore, you should pick fewer display fonts and more body fonts since they make up the majority of your text.
Top 5 Free and Easy to Read ClickFunnels Fonts
As already established, fonts are a crucial element of your funnel design.
When your fonts are clear and legible, your intended message is easier to communicate. Subsequently, it boosts reader engagement and interaction with your content.
A good font can even build your credibility as a business.
Always try to accompany your artistically designed funnels with an easy-to-consume message. Here are the top five readable ClickFunnels fonts to consider.
1. Open Sans
Designed by Steve Matteson, Open Sans is a Sans Serif font type that features ten different styles ranging from light to extra bold.
Although the font is sophisticated, it is classy and timeless, making it applicable in the modern era.
With a superior typographic range, Open Sans is a highly-legible font that helps to improve users' reading experiences.
Since this font type is optimized, it is versatile and can be used for mobile and web in different languages.
Similarly, thanks to its versatility, Open Sans integrates pretty well with other Sans Serif fonts to create a visually appealing text outcome.
Additionally, it remains legible whether you use it in small or large sizes and thin or bold typographies.
2. Roboto
Roboto is a highly popular Sans Serif typeface developed by Christian Robertson.
It was created to improve readability on mobile devices, especially Android. Roboto features 12 different styles with weights varying from thin to ultra-bold.
The Roboto font further tapers off into two variations: Roboto Condensed, featuring six styles, and Roboto Slab, featuring four styles.
Although it is mainly geometric, it features approachable and rounded curves with proper spacing between letters.
Roboto is a simple, neat, and stylish font that is easy to read and suitable for mobile and web formats.
Subsequently, you wouldn't have to worry about optimizing your funnel fonts for mobile since it has already been done for you.
3. Source Sans Pro
Source Sans Pro is another Sans Serif font that is lightweight, thus making it neat and legible. It was created by Paul D. Hunt.
The web font features 12 different font styles with weights ranging from extra light to ultra-bold.
By varying the styles and weights, you can use the font in headings and the body.
Since it is a corporate-style font, it is a good fit for professional sales funnels. Moreover, being a lightweight font helps your funnel pages load faster.
Hence, your leads get a good user experience. Fast page loading speeds can also lead to more conversions!
Another perk of Source Sans Pro is that it supports multiple languages, including Western and Vietnamese languages.
This enables you to reach a wider audience since the font allows translations into other languages.
4. Montserrat
Designed by Julieta Ulanovsky, Montserrat is a geometric Sans Serif typeface designed to provide attractive, neat, and legible typography.
It comes in 10 different weights ranging from light to extra bold italic.
If you're looking to put an extra emphasis on an element, the font allows you to mix two weights for the best results.
Another way to use Montserrat is to create taglines, headlines, and text bodies.
The extra bold weight works better for headlines, while the rest of the weights can be utilized in the general text.
5. QuickSansd
QuickSansd is a geometric Sans Serif typeface with rounded terminals that give it a warm and approachable feel.
Although it is casual, it is modern and elegant, thus giving your funnels an appealing look.
Due to the rounded edges, QuickSansd makes a perfect headline font and can be used for display purposes.
When it's used as a headline font, your landing page headlines will stand out and demand attention.
Bot hold up! Headlines are not the only important thing on a landing page. Several elements work together.
Read my guide on the best ClickFunnels funnel landing pages to find inspiring examples. Anyway…
You could also use QuickSansd as a body text font (albeit in small bits).
For better results, pair it with other fonts such as Open Sans and Montserrat to achieve a harmonious look.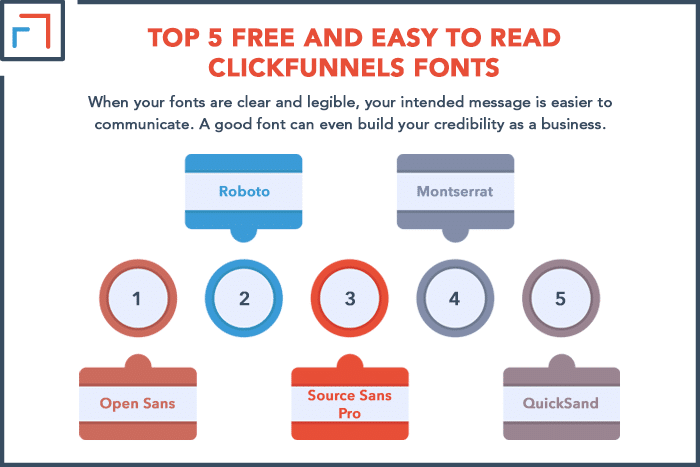 Top Paid ClickFunnels Custom Fonts
Although ClickFunnels has most of the free Google fonts embedded in its editor, some may be missing.
In some cases, you might also want to take your sales funnel appearance a notch higher by indulging in custom paid fonts.
Luckily, ClickFunnels allows you to add custom fonts of your choice.
If you want to stand out by using fonts outside ClickFunnels, here are a few best ones to get you started. You will need to pay to use them, though!
1. Mont
Mont is a geometric Sans Serif display font with accompanying italics that comes in ten weights ranging from Hairline to Black.
In addition, the font comes in 22 different styles and supports up to 91 languages, including Extended Latin, Cyrillic, and Greek.
Mont's balanced character (combined with unusual characteristics like the pointed "t" and a significant x-height) makes it ideal for displaying strong headlines and memorable logos.
It also works well as body text. Mont includes a number of OpenType capabilities, such as tabular figures and sophisticated typographic elements.
This covers things like fractions, case-sensitive forms, superscripts, subscripts, etc.
The versatility and advantages of the typeface make it simple to tackle any sales funnel task.
The pricing of Mont font packages begins at $85, depending on the number of styles you need. You can also choose to access a single style for free.
2. Avenir
Avenir is a widely used geometric Sans Serif font designed by Adrian Frutiger.
Although it is a geometric typeface, it is a futuristic font with humanistic features that make it warm and approachable.
The font features 18 styles ranging from 35 light to Arabic black. It also supports up to 79 languages, although they don't all support every font format.
These multiple font styles allow you to use Avenir in several ways. For instance, you can use the bold weight to put emphasis.
Some features of Avenir include vertical strokes that are thicker than horizontals, an "o" that is an imperfect circle, and reduced ascenders.
These subtleties improve legibility and give Avenir a balanced and sensible appearance in both text and headlines.
Its pricing starts at $35 for a single style and $299 for packages.
3. Recoleta
Designed by Jeorge Cisterna, Recoleta is a Sans Serif font type that features 15 styles. The design is inspired by the warm and welcoming Sans Serif fonts from the 1970s.
These include angled strokes from Windsor and smooth shapes from Cooper.
When blended together, these features form a unique Recoleta design that emanates an aura of freshness, familiarity, and modernity.
The versatile styles allow you to achieve the best typographic outlook for your sales funnel.
For instance, use the lighter weights for your text body and the heavy weights to present an impactful headline.
Recoleta offers competitive pricing with a single style starting at $0 and packages starting at $27.
4. Futura Now
Designed and launched by Monotype, Futura Now is a famous Sans Serif font that embraces the new minimalist trend.
It is an improvement of the earlier version (Vintage Futura) that had weight range issues and difficulty fitting into modern designs.
Futura Now contains 102 beautiful styles, five variable fonts, and 600+ characters. It also supports up to 109 languages.
In addition, the font has eight well-spaced subfamilies, including Headline and text families. It also gives you access to decorative elements such as outlines and shadows.
The pricing starts at $54 for a single style and $299 for packages.
5. TT Norms Pro
Designed by Ivan Gladkikh, TT Norms Pro is a contemporary geometric Sans Serif typeface that features 72 different styles.
It also has nine different weights that vary from regular to extra bold, with each weight supporting italics. Additionally, it supports more than 90 languages.
This typeface is characterized by smoothly curved characters that portray an uncomplicated and elegant look.
The font also feels more human once you use the stylistic alternatives. Moreover, its wide range of characters (including Latin and Cyrillic) add to your design appeal.
Like Avenir, TT Norms Pro possesses several typographic features such as superscript, subscript, ligatures, fractions, and more.
This helps you create various designs for your sales funnel ranging from headlines to the body text. The font price begins at $35 for a single style and $42 for packages.
6. Juana
Juana is a display serif font designed by Eli Hernandez. It features 24 styles that are suitable for web, mobile, and desktop.
Similarly, the font contains 16 different weights varying from thin to alt black. The multitude of styles and weights make it useful for a variety of funnel projects.
The letters utilize a blend of geometric and organic shapes to achieve a modern look that is easy to read.
Moreover, the font exhibits a sharp contrast between thin and bold strokes, thus giving Juana a coherent and fashionable appearance.
Therefore, Juana is suitable for use in headlines and text body as well as for branding purposes. The font pricing begins at $29 for a single style and $49 for packages.
7. Georgia
Designed by Matthew Carter, Georgia is a Serif design font with four styles. It was designed to optimize readability for all sorts of screens and sizes.
As such, the font portrays a sense of warmth and friendliness even at tiny sizes.
The small screen readability makes Georgia a perfect funnel font due to the large number of mobile devices that are used to surf the web.
The warm and friendly aura helps your funnel visitors feel welcome and interact with your content more.
Georgia switches back and forth between thin and bold strokes—a characteristic that makes letters blend into each other.
As a result, it creates a continuous flowing text that is legible thanks to its graceful italic style and darker appearance. The price starts at $49 for a single style.
8. Vary
Vary is a Sans serif font designed by Olli Meir to cater to modern design needs.
It has ten styles and weights ranging from Hairline to ExtraBlack. With its sharp contrast, the Vary font is readable across different sizes and distances.
Wrapping Up
Fonts are an important element of your sales funnel design and require a lot of forethought. Fonts can persuade people to stay on your funnel or leave.
That is why you need to consider several factors before picking a font.
ClickFunnels fonts are fantastic, and they are used by thousands of marketers in their sales funnels.
They make your sales funnel appealing and attractive—an element that improves lead generation and drives conversions.
The top five legible ClickFunnels fonts we discussed will improve the overall user experience for your sales funnel visitors.
Additionally, they are free and lightweight, hence will help you save money and boost the performance of your funnels.